Harrington EMS offers your company complete solutions for your electronic manufacturing needs. Outsourcing may be something new you are considering or a vital part of your business strategy. We know the importance of having a partner who is an extension of your business. We offer the flexibility, instant capacity, quality, and delivery you demand at a competitive price.
Our extensive network of resources can assist you with designing a new product or redesigning an existing one. Prototype runs are scheduled for quick-turn in any lot-size that fits your needs. Specialized equipment allows us to produce a top-quality product in a quick-turn environment.
Our engineering team carefully reviews each and every design. Procurement experts, manufacturing engineers, test engineers, quality engineers, and component and design engineers all review the design and make recommendations for reducing cost and speeding time-to-market. This doesn't end with the initial quote but continues through the life of the product.
Still testing out the design? We can help by doing beta-production runs of boards or complete assemblies. Our engineers and facilities are at your disposal.
Reduce your overhead and capital investment by letting us provide a complete turnkey solution. Our procurement professionals will source, manage, and inventory what is needed for your product. From component part to circuit board; housing and bar code label to shipping container; you order one part - we manage the rest.
Our automated Through-hole assembly line assures fast, consistent placement of components. Certified Operators on Amistar and Universal equipment renew their training courses annually to ensure you always receive a quality product. Odd-form and other parts can be placed using our trained hand-stuff operators. Gluing, conformal coating, and wave soldering are all accomplished by highly skilled operators. We use a No-Clean soldering process to produce robust solder joints.
We have production lines to meet your requirements: prototype/small run, small to medium lot size, low to high volume. Certified operators maintain the fully automated high-speed line. Siemens and Mydata equipment with the latest software upgrades ensure fast, accurate placement. Fine Pitch placement to 12mil and 0402 packages and double-sided boards are within our standard service offering.
BGA and MicroBGA components are placed using our Mydata equipment with its vision system or mechanical centering capability. The accuracy and repeatability of this equipment ensures perfect solder joints, down to 15mil pitch components. This expertise is backed up with the latest in X-ray technology and a Metcal Placement/Repair station.
Our Test Department offers exemplary services in Design for Test (DFT), Design and build of test fixturing and software, In-circuit, Functional, and Environmental Tests.
We offer RoHS or lead free manufacturing to meet any RoHS compliance through-hole, surface mount, mixed technology or box build assemblies you need.
We offer conformal coating capabilities to apply coatings to seal components and boards from moisture and to secure components against vibration.
Integrating printed circuit board assemblies and other components or subassemblies into a final product, testing, and final packaging is another service we provide. This further reduces your overhead and simplifies the purchasing process to one part number.
Our extensive warehousing and shipping capability will fill your customers' requirements accurately and on time.
We offer programming of integrated circuits in most packages available, both on-board and off-board. Electronic program files of standard formats are acceptable for programming.
Harrington EMS is ISO 9001:2008 Certified and compliant with IPC-A-610D class 2 and 3 quality standards. We also comply with the industry J-STD-001C standard for military requirements.
At Harrington EMS we are dedicated to providing a comprehensive solution for your manufacturing needs.
Speedprint SP700avi SMT Stencil Printer
This high speed screen printer allows a maximum board size of 600 mm x 510 mm with print speeds up to 250 mm per second. It features an optical inspection of the paste brick with 2D+ bridge technology to ensure accurate and repeatable precision alignment. It also features an automatic stencil load/unload and a glue and paste dispenser. The SP700avi has been designed for high volume SMT production, yet it has the flexibility needed in our high-mix, quick product set-up & changeover environment.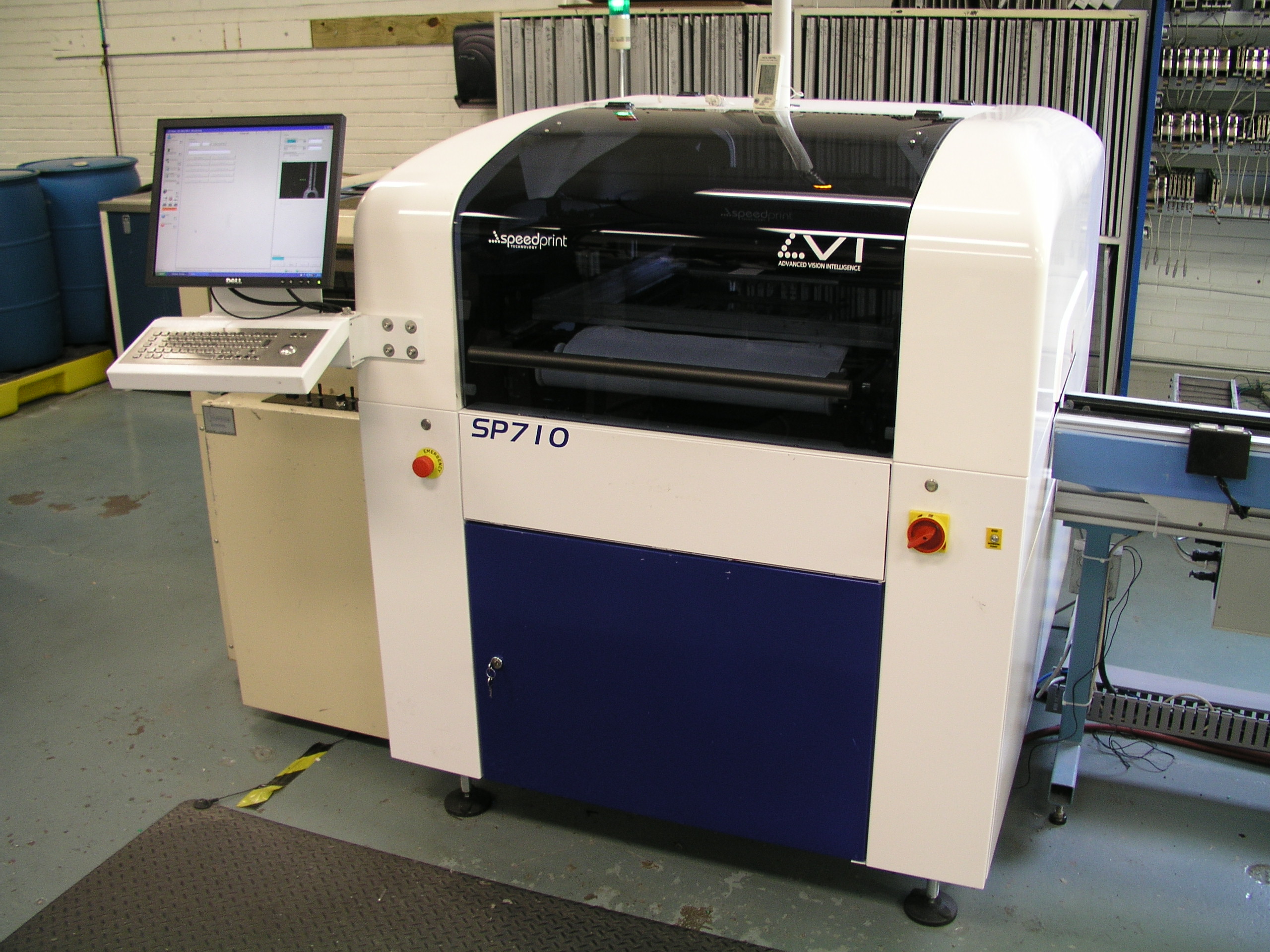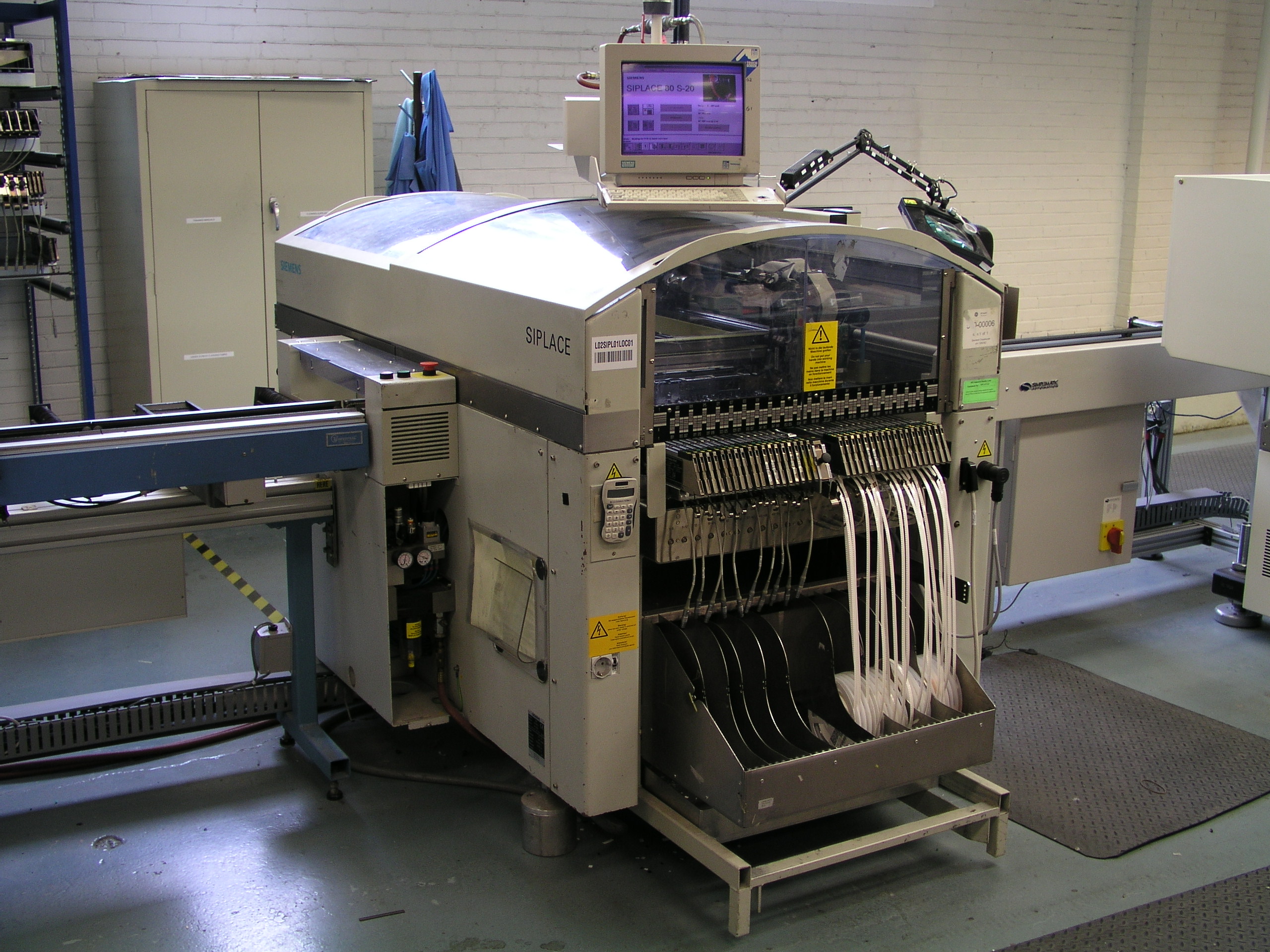 Siemens 80 S-20 Chipshooter
This 80 S-20 has the capacity of placing 20,000 parts per hour. 8-mm up to 34-mm component placement capability, along with BGA and Micro BGA part placement. The 80 S-20 machine also has a vision system that aligns parts before being placed on to the PCBA to ensure high placement accuracy. 
Pillarhouse Jade S Series Selective Soldering System
The Jade is a hand load selective soldering system. It incorporates a universally adjustable tooling carrier capable of accommodating PCB's or pallets up to 457x 508mm. A highly accurate Drop Jet fluxing system has the ability to operate either in a completely separate fluxing program or as part of a simultaneous flux/soldering operation. The solder bath and pump mechanism operates by moving the entire Flux and Solder assembly in three axes of movement. The soldering process is enhanced by a hot Nitrogen curtain which provides an inert atmosphere for the soldering process and also assists in the prevention of oxidation and provides a local pre-heat to the joint to reduce thermal shock to localized components. The Jade is controlled by a PC a Windows® based "Point and Click" interface.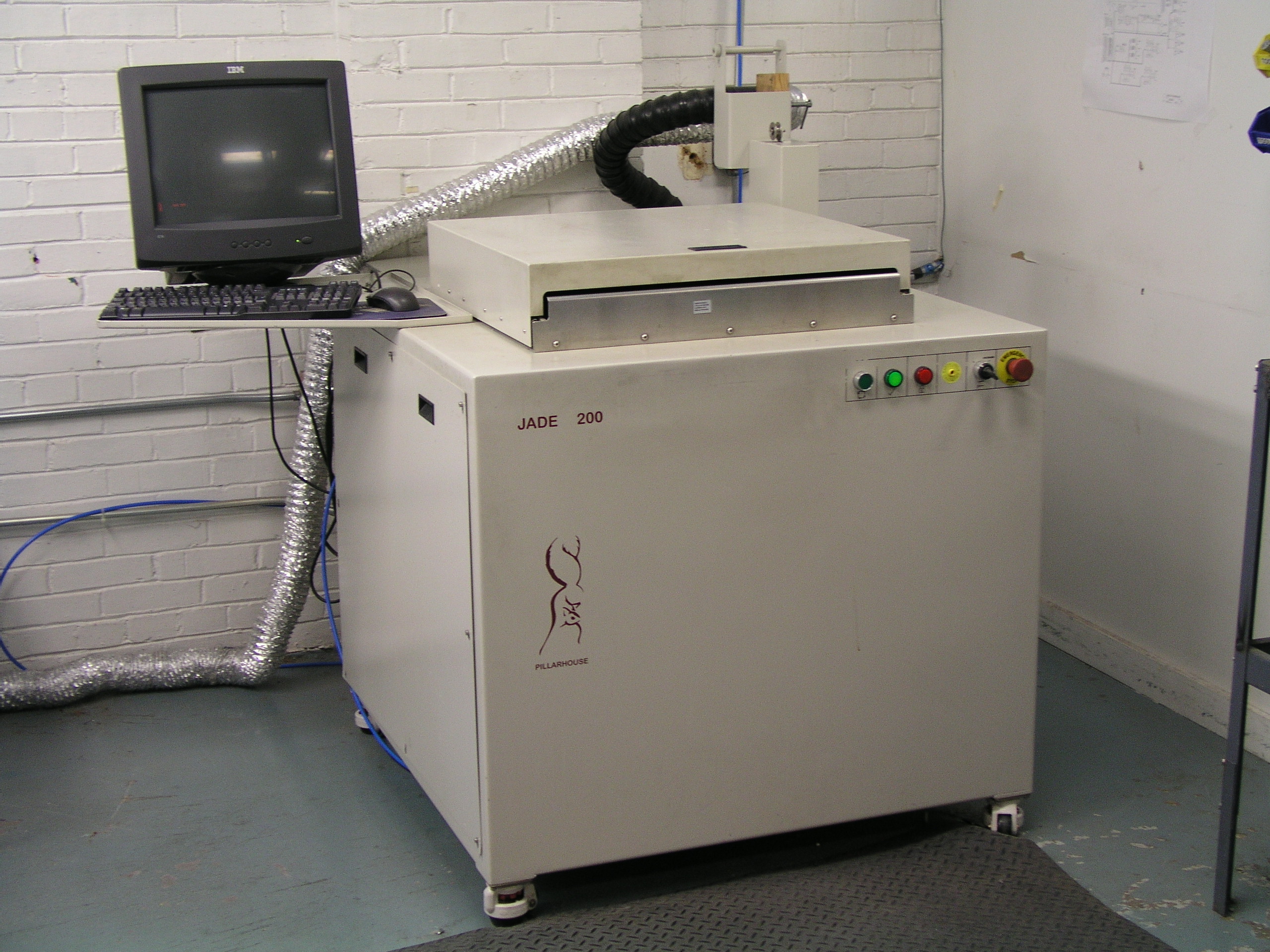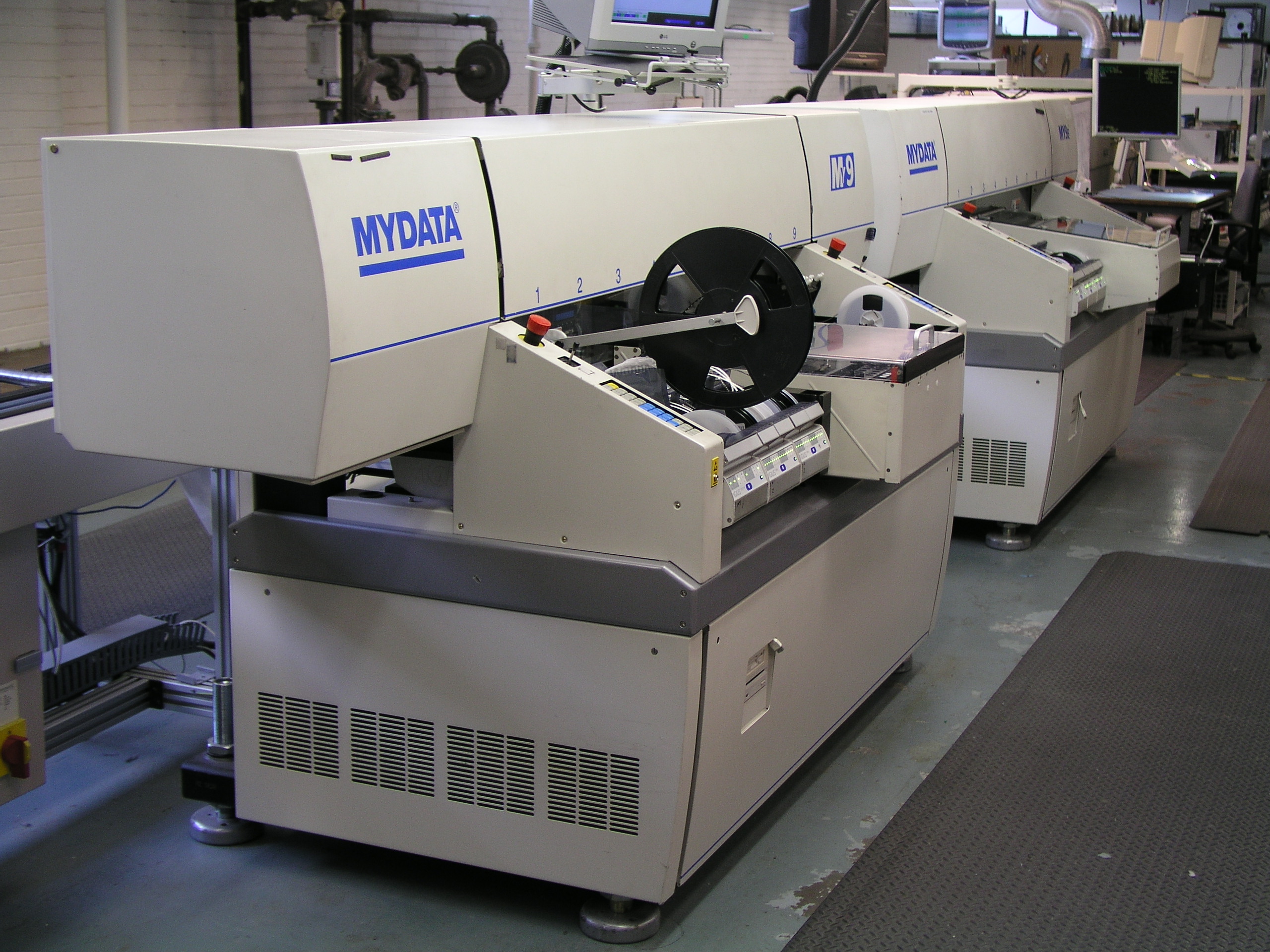 The MyData My9e has both the Midas mounting head and the Hydra speedmount head. It is capable of placing 0201 to 56x56x15mm components-including ultra-fine pitch QFP's and BGA's-at a rate of up to 21,000cph. It uses either mechanical or vision cameras to inspect and center the components. The Agelis feeders allows fast loading of tape and reel parts. The feeder bays can hold up to 96 unique parts.
Metcal BGA3591 Rework Station
Rework system that allows replacement of BGA and Micro BGA. The rework station has video, which allows us to align board and part with a solder paste alignment accuracy of +/- .001 inches. With a board/part heating profile system, this allows operators to set up de-soldering and soldering program(s) for consistently used production boards.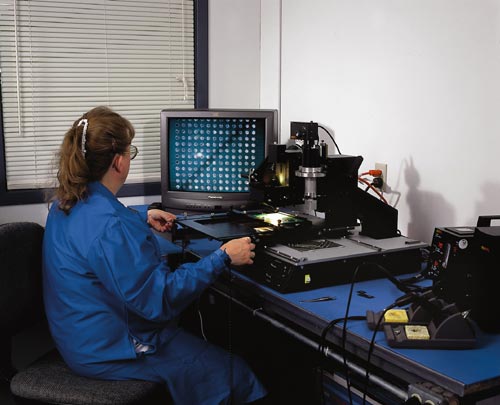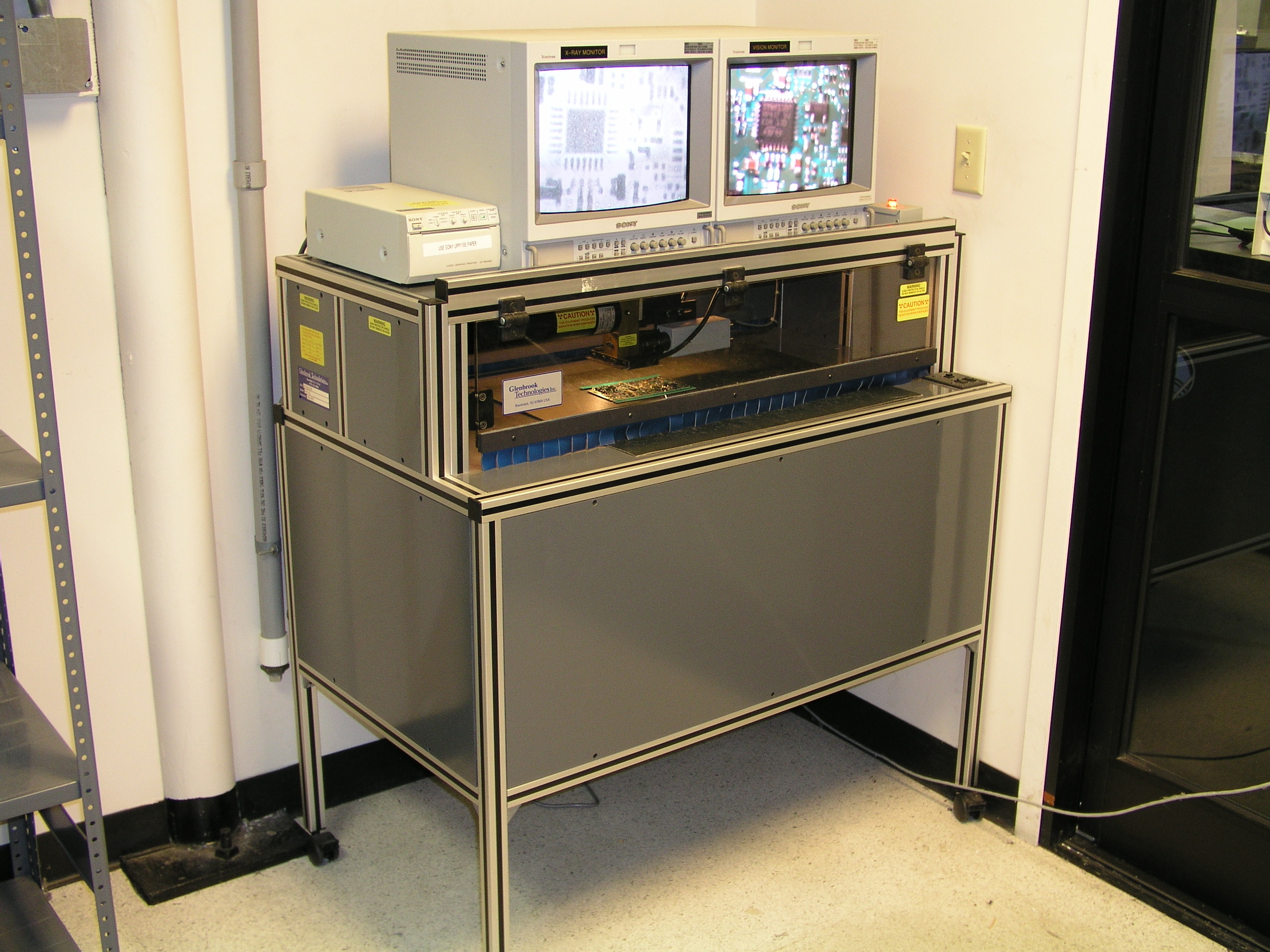 This portable system allows ease of X-Ray inspection of Multi-Layer PCBs, Small Hole drilling, BGA and Micro BGA Inspection and Backplane Boards. Anode Voltage of 35-53kV and Anode Current of 20-50 microamps.
Vitronics Unitherm SMR-800
This machine is an 8 heated and 2 cooling zone forced air oven with a max temperature capability of 250 C. The oven is set up with an edge rail system to handle double or single sided surface mount boards. Single sided boards can be placed on the rail system or on the mesh conveyor belt. The computer system is capable of holding Process recipes for each board that is run through the oven. The belt speed is adjustable from 9-inch/min minimum to 90 inch/min maximum.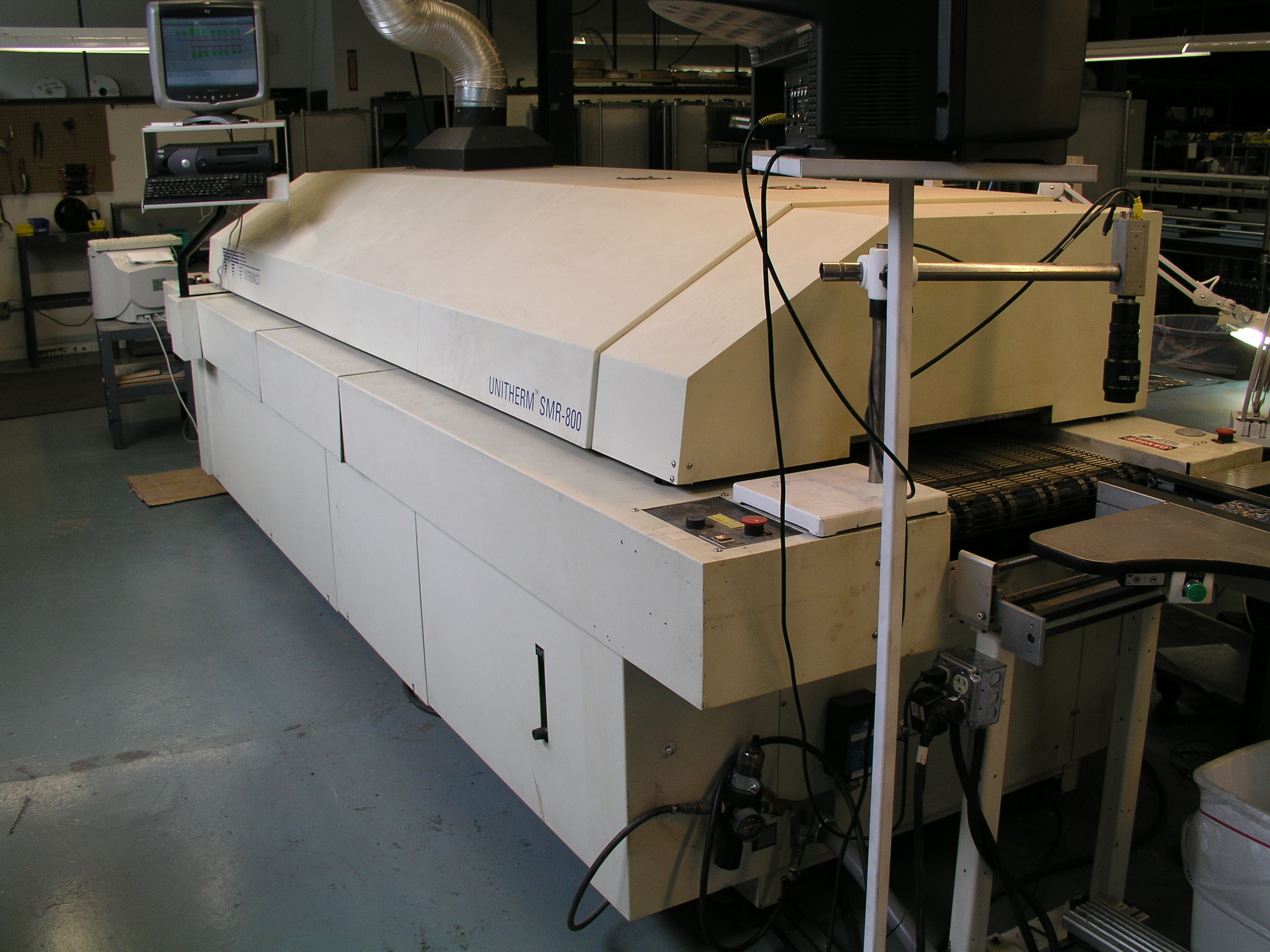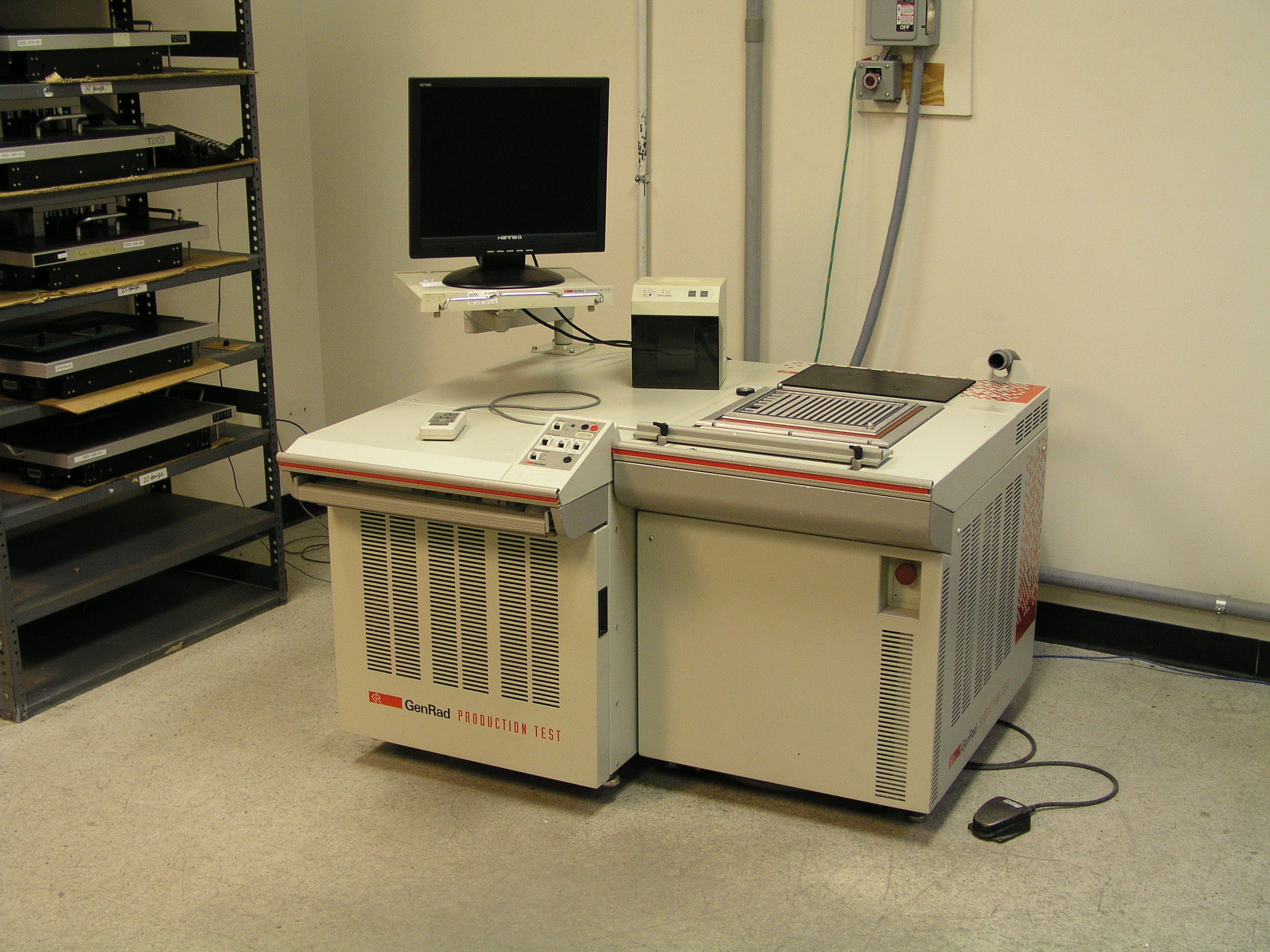 Genrad 2280s provides high throughput in-circuit testing with high fault detection coverage for analog, digital, and mixed boards. Tests simple and complex circuit boards for automotive, communications, medical, and other applications. Genrad's Junction Xpress and Opens Xpress provide vectorless test for through-hole, surface mount, and mixed technology boards. The tester has 640 test points, expandable to 1280 pins, IEEE-488 controller, three 20 VDC power supplies, and a programmable 120 VDC high voltage module. On-board flash memory programming during test is also available.
Universal 6772A DIP Inserter
Over 4800 part placements per hour. Allows chip on board placement with chip in socket placement.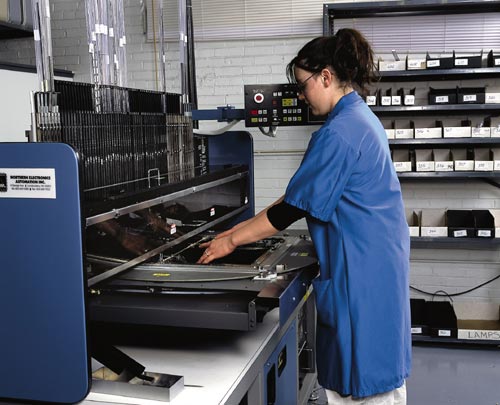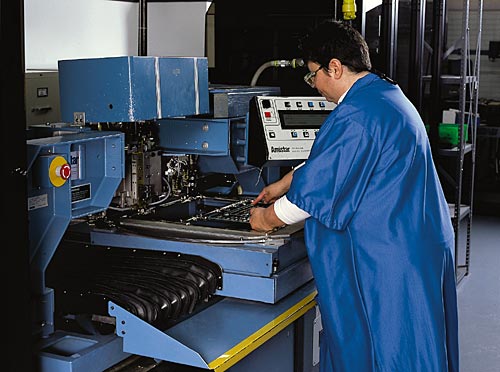 Amistar AI-6448 Axial Inserter
A standalone system with a maximum of 9,600 Part Placement per hour. Other features include Sequencing and insertion in a single operation. Automatic Optical Position correcting for part placement accuracy.
Technical Devices NU/ERA 18" MP Computer Controlled Wave Machine
This machine is fitted with a Fluxing system to pre flux the boards before entering the Pre Heating zone. The Pre Heating zone consists of 6'(L) X 18"(W) of Bottom mounted Emitter banks that are adjustable along with individual heating capabilities. Conveyor speed is capable of moving from 0-12 feet per minute (dependent upon board characteristics). With the host computer system we can simplify process setups, on-line monitoring. The emphasis of the system is to provide complete process control from a single, user friendly control source.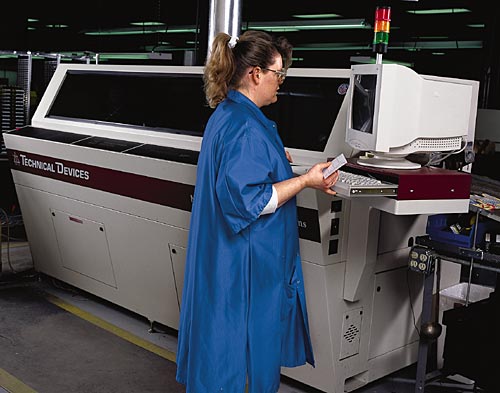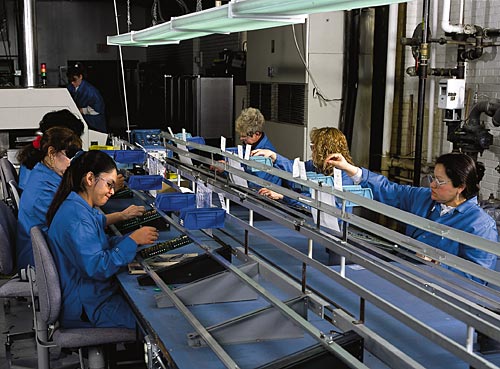 Our highly skilled assembly technicians are trained and certified annually. Their expertise is utilized in conjunction with the automated equipment.